Artfully arranged food bowls are taking over.
Food lovers are hard pressed to scroll through their Instagram feeds without seeing the latest culinary trend: food bowls.
Bowls filled with food so vibrant and artfully designed that they are almost too beautiful to eat.
There's a bowl for every meal, every preference. A sweet acai bowl for breakfast. A savory poke bowl for lunch. Ditch dessert and whip up a banana-cacao smoothie bowl to satisfy your sweet tooth.
But what sets these bowls apart from, say, a fruit salad or a stir fry?
Their meticulous, art-inspired arrangement.
Bananas, almonds and chia seeds in perfectly straight lines. Chickpeas, roasted veggies and tofu separated like equal sections of a pie chart. And no matter if the bowl is sweet or savory, there's almost always a flourish – a sprinkling of sesame seeds, a drizzle of peanut butter.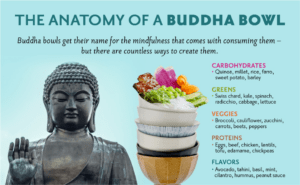 New York consultancy firm Baum and Whiteman predicted the bowl trend as one of the hottest food and beverage trends in restaurant and hotel dining for 2017, and if the flurry of double-taps is any indication, the prediction was an accurate one.
THE BASICS OF BOWLS
There's a bowl for every occasion and every palate.
Porridge
Oat base topped with fruits, nut butters, chia seeds …
Buddha
Carbohydrate base topped with roasted veggies, beans, proteins …
Smoothie
Blended fruits topped with nuts, sliced fruit, chia, bee pollen …
Poke
White rice based with sushi grade fish, radishes, seaweed, cucumbers …
Acai
Blended acai topped with granola, bananas, cacao nibs, coconut …