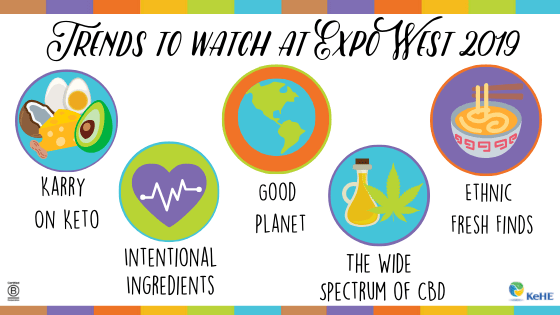 Before arriving in sunny California for Expo West in Anaheim, CA next week, KeHE's resident Product Innovation Gurus have created a round-up of the top trends so you know what to expect and look for on the show floor.
Karry on Keto: Keto – a strict regimen of low-carb, high-fat foods that forces the body into a state of ketosis – was all the rage for 2018 and we expect that at Expo West it will reach new heights. Originally discovered in 1921, this diet helps prime your body to burn fat for energy. Burning ketones in place of glucose spurs weight loss, lowers inflammation, fuels your brain, and boosts energy.  Brands are hustling to add line extensions that adhere to the keto philosophy to meet consumers' needs.
Intentional Ingredients: Ingredients that provide functional benefit to improve inner or outer health are on the rise. Collagen, which is found in everything from bones and organs to muscles and teeth, is appearing in traditional products like powders and new ready-to-drink collagen shots. This ingredient ultimately helps keep connective tissues vibrant and aids in the aging process.
Another hot ingredient is ashwagandha. Its root has been used for thousands of years as a natural stress-reliever and its also said to help promote balance in key body systems like the endocrine system, immune function and overall metabolism.
Consumers are now learning that to have a balanced microbiome, you need both probiotics and prebiotics for healthy digestion and overall good health. More than 80% of Americans experience gastrointestinal issues and nearly one-third now believe that probiotics can prevent these problems and are essential for overall digestive health.
The Wide Spectrum of CBD: Cannabidiol – or what you've probably heard referred to as CBD – and hemp-based products have taken the industry by storm. It's a naturally occurring ingredient of the hemp flower and has been making headlines as consumers use it to improve sleep quality and reduce anxiety and inflammation. The CBD market will likely grow 40 times its current size by 2022, according to a report by Brightfield Groupx.
Despite several states legalizing recreational cannabis use, the Food & Drug Administration (FDA) says CBD is not permitted in food or drink. We expect to see categories such as Pet and Health & Beauty Care to fuel the growth behind hemp extract oil and CBD innovation this year.
Ethnic Fresh Finds: For years, American taste buds have gone on a global migration.  World cuisines have become exciting in-home cultural experiences for consumers. Three-fourths of consumers enjoy international cuisines because they expand their palate. More than half of shoppers have favorable attitudes about trendy foods and international cuisines suggesting there is ongoing opportunity expanding flavor innovations, that will be on display in the Expo West Exhibit Hall.
Good Planet: Today's health-conscious consumers are also supporting brands who are committed to building their missions around planet positive practices such as regenerative agriculture, grass fed meat and sustainable seafood sources. They're looking for sustainable packaging, whole animal (tail to snout) and whole plant (root to stem) use, and the stories behind the farmers and fishers who produced their food.
Fifty-six percent of those between the ages of 18-34 say that environmental responsibility is an important factor in their food choices, according to our partner Mintel.  Twenty percent of US consumers rank environmental sustainability as a key component to a brand's mission.
KeHE is proud to be part of the movement by joining forces with brands that promote a higher purpose through our CAREtrade® program. We're also proud to be a certified B Corporation. As a community, B Corporations are driving a global movement of people using business as a force for good. We can do much more together than we can apart.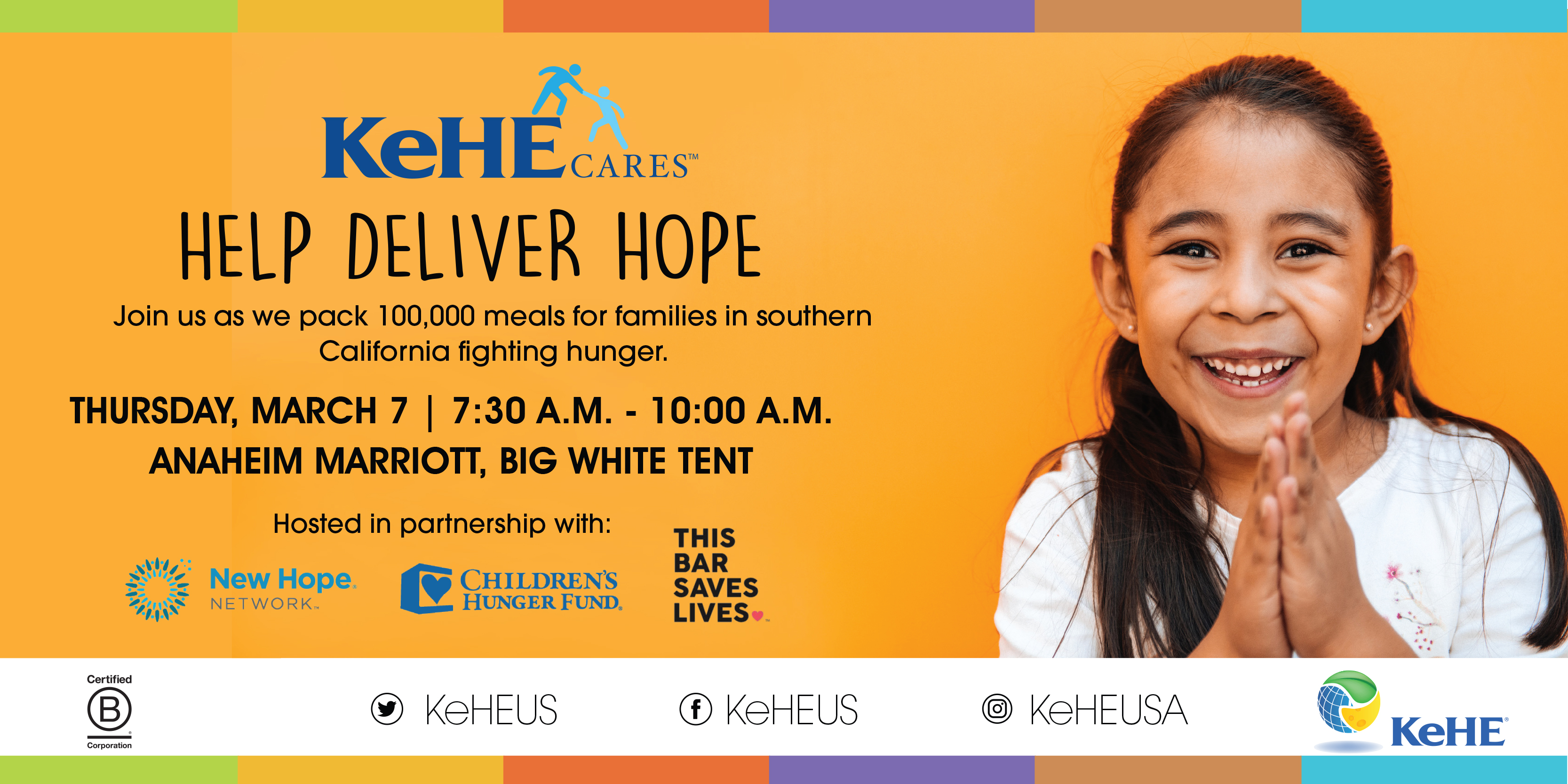 Join Us to SERVE to Make Lives Better®
We've teamed up with New Hope, The Children's Hunger Fund, and This Bar Saves Lives to host the largest serving event at Expo West – ever! More than 75 KeHE employees and show attendees will join together to assemble 2,000 food packs that will provide 100,000 meals to local Southern California families fighting hunger.
The event will take place at the Anaheim Marriott in the big white tent from 7:30 – 10:30 a.m. on Thursday, March 7. We hope you'll take a few minutes to stop by to kick off your show and be a force for good.
Also be sure to swing by the KeHE booth #1427 to learn more about these trends, or if you aren't in Anaheim, follow along on our social media channels!