The Meal Kit
and Caboodle
KeHE's Home Table™ brings trend in-store.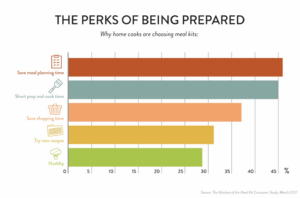 Meal kits are no longer considered novelties reserved for the foodie friend.
Nielsen says one in four adults has purchased a meal kit – and that 70 percent continue to buy them after making their first purchase.
But how do retailers fit into the mix?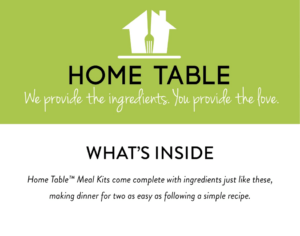 For the year ended March 4, 2017, meal kits in U.S. grocery stores generated $80.6 million in sales, up 6.7% over the previous year, according to Nielsen.
And with more than one-third of consumers looking to purchase meal kits in-store, retailers are primed to take full advantage of this trend.
KeHE has developed a solution to connect consumers with the demand for readily-available, in-store meal kits: Home Table™.
Home Table Meal Kits are complete, ready-to-cook meals for two, providing stores with a way to respond to competition from online delivery kits.
It's a one-box solution that offers consumers an introduction to new and interesting foods, eliminates the "what's for dinner" dilemma and puts convenience right in their shopping carts.