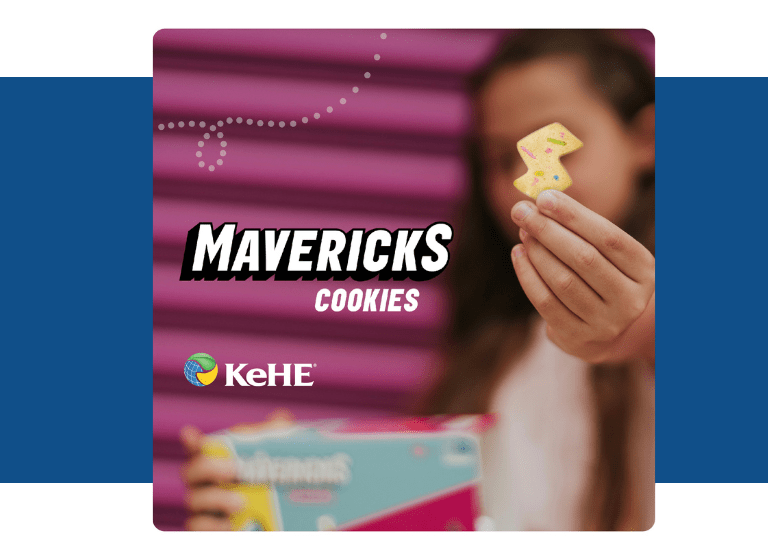 A Sweet Partnership With Mavericks Cookies
At KeHE, we get to work with many exciting new brands and love to help them grow. Case in point: Mavericks Cookies. This company creates snacks that offer a sense of freedom and joy that is reminiscent of childhood. Mavericks was launched in 2020 to provide options for healthy but still flavorful children's snacks. To develop their product, the company worked with a pediatric nutritionist to develop cookies that are tasty, junk-free, plant-based, and soy-free, with 40% lower sugar and no nuts, making them school-safe snacks for kids with allergies. We sat down with Tina Pate, VP of Marketing at Mavericks, to learn more about the company's journey in a competitive market and the insights they've acquired to fuel their success.

Q: How has being part of KeHE helped you grow your business? 
A: Our partnership with KeHE has been a key factor in the growth of our business. KeHE has given us the opportunity to participate in a series of shows and programs that have allowed us to introduce our products to a wider audience and enhance our brand presence. To start, we were recognized as part of KeHE elevate™ in 2022, which gave our company greater visibility and credibility in the industry. Our Category Manager at KeHE, Gad Perdomo, has been an essential part of our success. His invaluable guidance and industry insights have helped us to make strategic decisions and tap into the KeHE network.
The New@KeHE program has also been instrumental in the growth of our business by allowing us to introduce our product to key decision-makers. This led to new distribution opportunities and partnerships. Lastly, KeHE has allowed us to participate in KeHE Holiday and Summer shows, where we were able to showcase and promote our products to a larger audience. Above all, KeHE has given us numerous opportunities to secure new business and has opened doors for Mavericks across the country, including launches with major retailers such as Albertsons, Meijer, and Publix.
Q: What would you tell a small business owner who is looking for a distribution partner? 
A: I would highly recommend KeHE to any small business owner that wants support and guidance while they build their brand and expand into new markets. With a wealth of resources and expertise, KeHE has been invaluable to growing our small business. The Category Managers, specifically Gad, have provided us with insights and guidance that have allowed us to make strategic decisions and navigate the complexities of the market. The resources and networking opportunities at KeHE are an essential resource for any small business looking to succeed.
Q: Where do you hope to take the brand in the future? 
A: We hope to take Mavericks Cookies to new heights by staying true to our mission of delivering healthy and innovative snacks, while also anchoring ourselves in acts of service to our community. It is our goal to become a leading snack alternative that offers healthier and reimagined versions of lunchbox classics and to set ourselves apart by our dedication to healthy, great-tasting snacks. With a strong focus on innovation, we are planning to expand our product line to offer a wider variety of healthy snack options to our customers. Importantly, beyond our dedication to creating delicious, healthy snacks, we are also committed to giving back to the community. By 2024, we plan to donate at least 1% of our annual profits towards initiatives that support and celebrate kid change-makers who are making a positive impact in their communities.
For a small business like Mavericks Cookies, getting their products on store shelves can seem daunting, but with the right resources and support, this process can be simplified. At KeHE, we're committed to nurturing emerging brands with exclusive supplier programs such as KeHE elevate™, KeHE ECOtrade™, KeHE CAREtrade® and KeHE DIVERSEtrade®. These high-touch programs provide small brands with the resources they need to succeed and can help great small businesses meet the demands of a constantly evolving market. Get in touch with KeHE here to start your own success journey.