Our company culture begins with integrity.
At KeHE Distributors, we're all about goodness. Our mission to Serve and feed America is fueled by an obsession with natural & organic, specialty, and fresh products. These delight consumers and deliver stellar growth for our customers and suppliers. At KeHE, we're not content with just plain good; we aspire to next-level goodness, in all aspects of our operations, because where KeHE goes, goodness follows.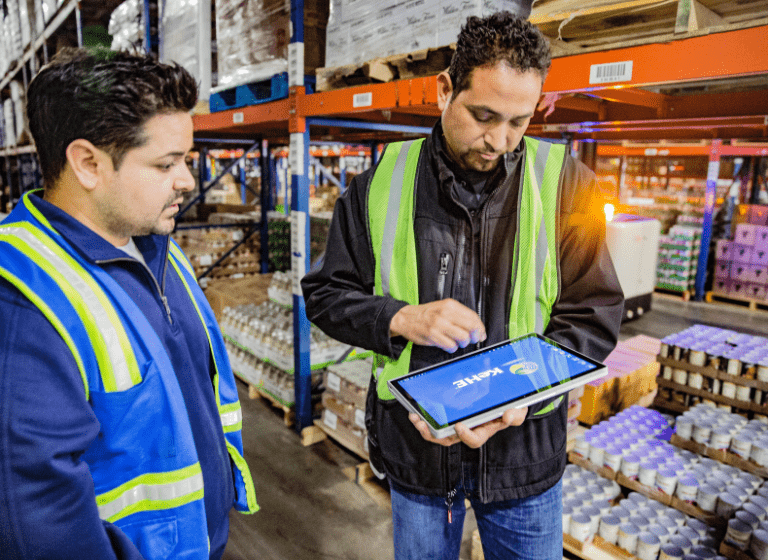 With more than 6,800 employee-owners and a 16-distribution center network across North America, KeHE is one of the largest and most respected pure-play grocery and natural distributors in the nation.
Where we go, we spread the word on healthy eating, sustainable living, and responsible business with integrity follows. We back that up with our large distribution network and advanced performance metrics that assure goodness follows to each supplier and retail partner.
We're passionate about innovation. By combining consumer insights, market data, and a curated item assortment with product knowledge and merchandising expertise, we deliver actionable data-backed solutions to keep our partners relevant, fresh and ahead of the pack.
We're also passionate about business with integrity. As a proud Certified B Corporation, we are held at the highest standard of social & environmental performance. Through this accountability and our public transparency, we can have a positive impact on the planet and the communities we touch.
KeHE Distributors®

Proudly Employee-Owned
We were founded in 1953 by Art Kehe, an independent retailer who saw a need in the market to better service store owners.
70 years later, we're proud to be employee-owned. With more than 6,800 employee-owners and a 16-distribution center network across North America, we're one of the largest and most respected national fresh, natural & organic and specialty food distributors.
Through our KeHE Employee Stock Ownership Plan (ESOP), our company-funded benefit that provides company stock ownership to employees, employee-owners take pride in what they do every day knowing that their success serves a higher purpose: We SERVE to make Lives Better®
Join the KeHE team

Certified B Corporation
We're passionate about business with integrity. And doing business with others who share our values. As a proud Certified B Corporation, we voluntarily meet higher standards of transparency, accountability and performance.
It's a certification. Like Fair Trade (or organic or LEED®), but for the whole company that meets the highest standards of verified performance, transparency and accountability.
It's an approach. A better way to do business – better for workers, communities and the environment.
It's a community. A community of practice to increase our individual and collective impact.
It's a movement. Leaders of a global movement of people using business as a force for good.
Learn more about B Corporations
Authentic to our Roots
We authentically serve the grocery industry through our natural, organic, fresh, and specialty product assortment.
Our Vision: To be the preferred supply chain partner in the specialty, natural & organic and fresh product marketplace in North America.
Our Mission: We are dedicated to the success of our customers and suppliers by providing optimal distribution solutions and value-added sales and marketing services.
Our Core Purpose: We SERVE to make lives better® for our customers, our suppliers, our employees and our communities.
We Stand For Love™
We stand against hate and violence, and we address incivility with courage.
KeHE Recognized as a Best for the World™ B Corp!
We are beyond happy to share that we've been recognized as one of the Best for the World B Corps of 2022! To be Best For The World, B Corps must have scores in the top 5% of one or more of the five impact areas assessed towards the certification.
As all B Corps are already businesses that meet high standards of verified social and environmental performance, public transparency, and legal accountability to balance profit and purpose, this is a recognition that makes us incredibly proud!
And we're just getting started! We will continue collaborating with the global B Corp community to improve and positively impact all our stakeholders.
We're passionate about business with integrity.
As a certified B Corporation, we believe in transparency. Take a look at our journey this year!
View our 2023 Goodness Report to see where we're going – come join us!