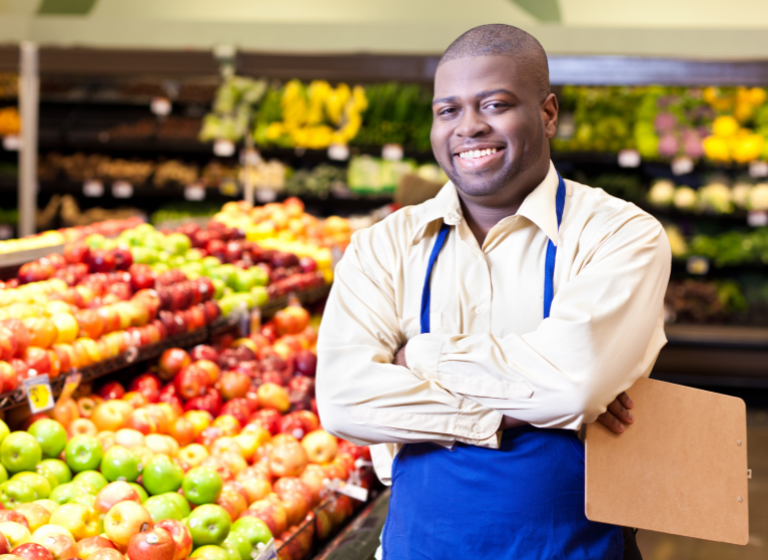 Small in Size, Large in Impact: The Evolving Role of Independent Grocers
At KeHE, we recognize that small and large grocers differ from one another in many ways, which means that each faces unique opportunities and challenges. Independent grocery stores may be small, but they have a very large impact, playing a vital role in communities, supporting local businesses, and shaping market trends. With over $250 billion in grocery sales, these community-driven grocers create over 1.1 million American jobs. Despite facing significant challenges, such as the pandemic and shifting consumer preferences, independent grocery stores have proven their resilience with a 25 percent increase in sales over the past decade.
The Role of Independent Grocery Stores
Small, independent stores play an essential role in the grocery market, curating assortments of high-quality, unique products that are a reflection of the communities they serve, and characteristics not present in chain stores. The small and localized nature of independent grocery stores allows them to be flexible so they can easily pivot and cater to consumers as their preferences change. Additionally, because all small grocers represent a different community, each has an individual product niche. As a distributor for many independent grocers, KeHE can provide the benefit of a variety of new innovative products to various stores depending on what their customers are buying.
Most importantly, independent grocers are a direct pipeline for products that bring innovation and cutting-edge trends to shelves. Larger grocery stores, on the other hand, serve as the end of the product journey, providing customers with brands they are familiar with and love. With the option to choose from small or large grocery stores, consumers can select their shopping journey and seek out the type of products they are looking for, whether trendy, conventional, bulk, or name-brand.
KeHE Supports Independent Grocery Stores
In some ways, KeHE is similar to independent grocers as both are employee-owned and need to be on top of new trends to be successful. One way that KeHE supports independent grocers is by offering exclusive access to small brands such as Cadia, Cadia Everyday, and MadeWith, while also ensuring they have the right product mix at the right price on their shelves to compete with large grocers down the road. These private label options are high quality, value-priced, and not available at large chain grocery stores, giving KeHE an opportunity to support smaller stores with a competitive edge against their larger competitors.
Upcoming Opportunities
The grocery industry continues to change along with customers' preferences and technology, but this presents new opportunities for small grocers. Considering the current challenges of the economy and a saturated market, all grocers will have to think outside the box when it comes to promotions and deals to drive higher sales. Small grocers specifically have an advantage when advertising due to the centralized and familiar nature of their audiences. Tap into a new market for busy families in your community and offer pre-made meals to take home or dine. This means that if a smaller grocer has prepared food available, families will purchase not only their groceries but pre-made meals from that store as well.
Possible Challenges
With the variety of benefits that changes in the distribution industry present for independent grocers there also come challenges, and they will have to evolve to remain competitive with larger grocers.
The world is more easily accessible online, and many customers now prefer to take the route of app-managed grocery delivery and pickup.

This may be a challenge for independent grocers because part of their appeal is the in-store shopping experience that presents customers with new and exciting products.
Ultimately, an increase in virtual shopping could weaken the vital connection that independent grocers have to their community.
Smaller grocery stores will need to hone in on their ability to meet customers with e-commerce offerings.
Recent inflation rates and the economy are other challenges that small grocers will have to continue to navigate.

As the price of products increase, consumers will likely be more inclined to purchase products in bulk because it is an inexpensive way to shop.
Larger grocery stores are traditionally known to offer products in bulk, whereas smaller grocers are regarded for curated and unique items.
Finding ways to lean into marketing these unique and curated items will be key to success.
Small independent grocery stores play a vital role in our communities by offering unique products, personalized service, and a sense of connection. However, as the industry continues to evolve and change, these stores will need to adapt to stay relevant and meet consumers' needs. By embracing technology, diversifying product offerings, and focusing on creating a superior customer experience, these small grocers will be able to stay ahead of the curve. All of these elements will allow independent grocery stores to thrive in an ever-changing landscape and continue to serve their communities with innovative, high-quality products.