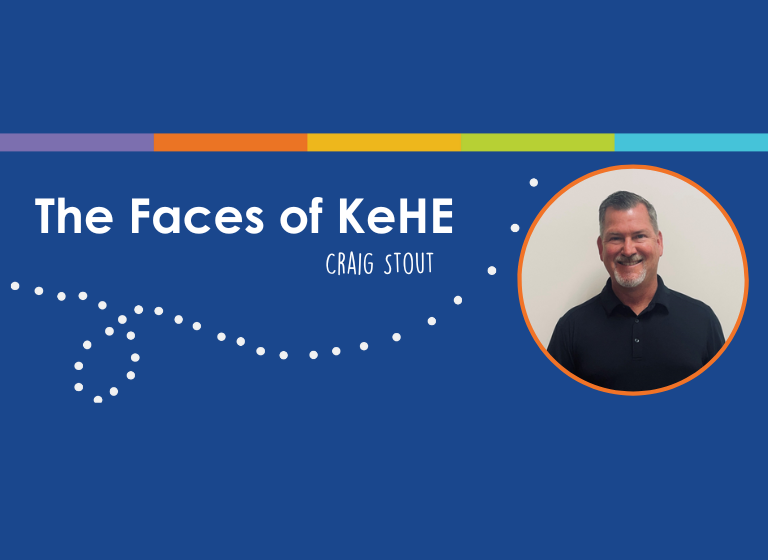 The Faces of KeHE: Craig Stout
In honor of Veterans Day on November 11th, we are taking a unique approach to our Faces of KeHE feature. Craig Stout, a KeHE employee who served in the Marine Corps for an incredible 30 years, is being highlighted as a part of this special edition. Craig brings a wealth of knowledge and experience to the company, and we are thrilled to have him be a part of KeHE. Let's celebrate Craig and all of the brave servicemen and women in honor of this important day!
Q: When did you first join the military, and which branch were you in?
A: I joined the Marine Corps in my senior year of high school, and I left for recruit training in July of 1991. I retired in July of 2021 after 30 years.
Q: What brought you to KeHE? How long have you been with the company?
A: I served as a Career Recruiter in the Marine Corps for over 20 years of my service. That skill translates very well into the Talent Acquisition field. I met with Ed Crowe and Zach Peluso shortly after retiring from the Marine Corps and was hired at KeHE in April 2022.
Q: Tell us a little about your role at KeHE and how it's changed over the years.
A: I am currently the Senior Manager for Talent Acquisition – Operations. I have a great team of recruiters throughout the company who keep our Distribution Centers staffed. Prior to taking over warehouse operations, I led the transportation recruiting team. I have been with KeHE a little over a year and a half and I would say that in that short period of time, we have really established some great processes and procedures in talent acquisition that have led to successfully staffing KeHE across all areas of the business.
Q: Are there any values or skills you learned during your time in the military that you apply to your work at KeHE today?
A: There are several values that you learn in the military that you can apply to business and in life. Some of the ones that I believe are the most valuable are integrity, initiative, decisiveness, and dependability. All these traits help me be a better leader for KeHE and my team.
Q: How has KeHE fostered your growth within the company?
A: It has been a privilege to be part of such an amazing organization. KeHE is the first corporate position that I have had since I retired and I have grown tremendously since joining KeHE with the help of peers, mentors, and my leadership team in talent acquisition.
Q: What are some of the biggest changes you've seen during your tenure with KeHE?
A: I have not been here very long. However, in my short tenure, I have seen some great structure to the talent acquisition team. From where we were when I joined KeHE to where we are now has been significant. Our team is embracing new technologies, looking into how to further our position in opportunity talent, and keeping the business staffed across all areas within KeHE.
Q: During your time with KeHE, what milestones are you most proud to have been a part of?
A: I was originally hired to lead the talent acquisition team for transportation. When I came on board, the business was short over (60) drivers. We put together a great team and in less than (12) months we had every distribution center fully staffed with drivers. Being fully staffed with KeHE drivers enabled the business to save an extraordinary amount of money on third-party freight that has continued to this day.
Q: What has been your favorite memory during your time in the military?
A: There were so many great memories over my 30-year career, from graduating recruit training to ending my career at my retirement ceremony. I would say that the best memories are all the amazing relationships I made with other Marines. Those relationships continue to this day and will last a lifetime.
Q: What has been your favorite memory during your time at KeHE?
A: I have had some amazing memories in my short tenure with KeHE. I think the one memory that stands out the most was attending my first food show in Nashville. The food show really puts in perspective the size and scope of KeHE. It was incredible to see all that we do and all of the vendors and business partners that we work with.
Q: What legacy do you hope to leave behind with KeHE?
A: My hopes when I retire from KeHE are that I will make an impact for the business and in the lives of the people that I work with. It has been a great adventure thus far and I look forward to the many experiences ahead of me.
---
Here at KeHE, we have increased our focus on the intentional hiring of veterans. Part of KeHE's commitment includes a partnership between our Talent Acquisition team and RecruitMilitary, which connects military job seekers with career opportunities at KeHE through career fairs, job boards, and publications. Craig Stout has been a key component to our successful partnership with RecruitMilitary.
Please reach out to recruiting@kehe.com for more information on RecruitMilitary.
To learn more about KeHE, please visit https://www.kehe.com/about/.