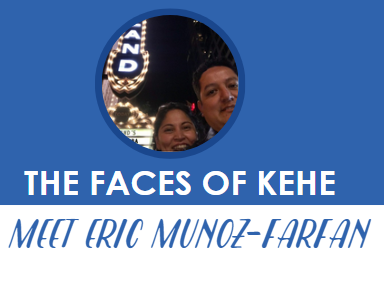 The Faces of KeHE: Eric Munoz-Farfan
At KeHE, our employees are central to our success. We want to highlight the people who have been with us for many years, celebrating their contributions and the impact they've made along the way. Eric Munoz-Farfan, Manager, Inbound Direct, is one of our valued long-time employees who brightens the day of those who work around him. He has held various positions during his time at KeHE and has an interesting story to tell.
Learn more about Eric's story below!
Q: What brought you to KeHE? How long have you been with the company?
A: I started working as part of the Tree of Life team back in 2000 (which later transitioned to KeHE) as I needed to help my parents when they were going through some rough times. Luckily, I had a friend that referred me, and that is when I started my journey with this awesome company. All together I have been working with KeHE for about 19 years, since I had a period from 2004 to 2008 that I was gone.
Q: Tell us a little about your role at KeHE and how it's changed over the years.
A: Like many of us, I started as a selector and kept trying to better myself and learn more positions to keep growing professionally. Once I thought that I was proficient and I had put some time in one position, I looked forward to start helping other areas that would need help or could be a good fit for me and the company. I went from selecting to put away, letdowns, CO/FZ, loading, Receiving, Unloading… lead, Supervisor, and now IB Manager.
Q: How has KeHE fostered your growth within the company?
I would like to thank my incredible management team for the unwavering support and guidance they've provided throughout the years. Their dedication has been instrumental in my growth and success. I'm looking forward to many more years of collaboration.
Q: What are some of the biggest changes you've seen during your tenure with KeHE?
Any time we have new customers, or we (any DC) must move into a bigger facility, it is a challenge in a good way since it means that we all are growing and our KeHE family is getting bigger and better.
Q: During your time with KeHE, what milestones are you most proud to have been a part of?
Since I started working with this company, every time I changed positions it was a step forward to my growth, both professionally and personally. I always keep looking to learn more and teach what I know.
I would also like to take a moment to express my gratitude towards my wife and kids for their unwavering support during my work. My wife's constant encouragement, understanding, and patience have played a pivotal role in helping me navigate the challenges and demands of my job. Whether it's lending a listening ear after a long day, offering valuable insights, or simply being there to uplift my spirits, her presence has been a source of strength and motivation. I am truly fortunate to have such an amazing partner by my side, and I want to acknowledge the significant impact she has on both my professional and personal well-being.
Q: What has been your favorite memory during your time at KeHE?
When I had my job interview in 2000, there was a bit of a language barrier and I had someone translating for me. The person took a chance and gave me the job (not sure how or what he saw in me. I was gone in 2004 and when I came back in August of 2008 in need of a job, on the day I re-applied to try to get a job the HR department called some of the management members and they came out and recognized me. I got a job right away, no questions asked except for, "Where do you want to work?" It felt good to know that I did have value in any part of the company.
Q: What legacy do you hope to leave behind with KeHE?
I am deeply grateful to my parents for instilling in me a strong work ethic that has shaped my approach toward my career and life. Their dedication, perseverance, and commitment to hard work have been a constant source of inspiration. The values they imparted, the sacrifices they made, and the example they set have not only guided me in my professional endeavors but have also molded me into the person I am today. I am indebted to them for teaching me the importance of diligence, determination, and the satisfaction that comes from giving my best effort.
So, I would love to do the same for my coworkers and each and every one of the employees that I have contact with. That way, they know that even when I am not around, they are an important part of the KeHE family. As long as they care about that family and do their best, everything will be great.
As the industry changes, we will continue to update our methods and technologies to better serve and grow with our suppliers, retailers, and employees. We look forward to having dedicated employees like Eric help us grow by tackling challenges head-on. With change being inevitable, we are grateful to have collaborative employees who are excited to learn new things.
To learn more about KeHE, please visit https://www.kehe.com/about/.