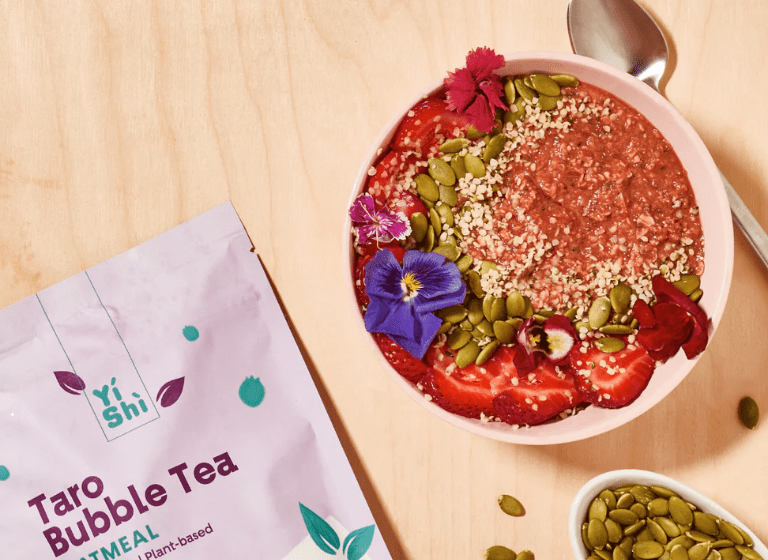 Yishi Taps into KeHE's Network for Massive Growth
As a leading grocery distributor, KeHE works tirelessly to discover new natural, organic, specialty, and fresh brands and fast-track innovative products to the shelves of retailers across the country. Operating with this ethos has helped us find some of the best brands in the market and accelerate their growth through our national distribution network.
The brand Yishi, a product that reimagines a breakfast staple, is a prime example of the power of our partnership and dedication to discovering best-in-class brands. Yishi began humbly as a nostalgic craving and has evolved into the first Asian-female-owned brand in the cereal aisle. In just under two years, Yishi has landed in more than 2,000 brick-and-mortar retail stores nationwide, including Sprouts, Jewel Osco, and Safeway.
Here's Yishi's story and how founder, Lin Jiang, has grown the brand by tapping into KeHE's national distribution network.
Q: How did Yishi come about?
A: I grew up in Qingdao, a beautiful coastal city in Northeast China, and came to the U.S. by myself when I was 19 for a college education. I didn't have time to cook for myself and ate instant oatmeal at my desk. I missed the nutritious and flavorful black sesame hot cereal of my childhood. So I decided to make my own version for the American market, combining the best Asian flavors and ingredients with the convenience of oatmeal.
Q: What does Yishi mean?
A: Yishi is named after the Chinese word for "ritual" and was inspired by my childhood memories of my mother's homemade breakfast porridge.
Q: What is Yishi?
A: Yishi is a first-of-its-kind breakfast brand that reimagines oatmeal — and morning rituals — with innovative flavors like toasted black sesame, taro bubble tea, and mango & cream, inspired by the best Asian desserts.
Q: How has being part of KeHE helped you grow your business?
A: Being part of KeHE has been a game-changer for our business, Yishi, in multiple ways:
Extensive Distribution Network: KeHE's extensive distribution network has helped us reach nationwide retailers such as Sprouts and Jewel-Osco, and get our products onto retail shelves.
Expert Guidance: The support and guidance from our category manager, Gad Perdomo, and the entire KeHE team have been invaluable. Gad has mentored us, connected us with KeHE's account managers, and helped us navigate day-to-day operations, from logistics to marketing.
Exclusive Trade Shows: KeHE's shows have been pivotal in expanding our business. These shows have provided us with opportunities to meet retail buyers from across the country face to face, showcase and sample our delicious Asian-inspired oatmeal, and raise brand awareness among potential customers.
Data & Insights: KeHE's transparent approach to data sharing has been immensely helpful. Through the powerful supplier portal and easy-to-access analytics dashboards, we are able to understand our performance and supply chain status in real time and identify our biggest opportunities to quickly capitalize on them. This data-driven approach has enabled us to make informed decisions and optimize our business operations.
KeHE elevate™: Being selected for KeHE's elevate program as an innovative emerging brand has been a significant benefit for us. The high-touch program has provided us with a trusted category manager who meets with us weekly to discuss our business, educational programs that have helped us understand the market landscape, and financial assistance, such as trade show discounts, that have helped us manage our budget and take advantage of marketing opportunities.
Q: What would you tell a small business owner who is considering working with KeHE?
A: I would highly recommend working with KeHE because they offer valuable resources and opportunities for small businesses in the natural and specialty food industry. Through KeHE, we have been able to reach more customers and optimize our operations, making them a valuable partner to us.
Q: Where do you hope to take the brand in the future?
A: We have ambitious plans for the Yishi brand. As the first Asian-inspired brand in the cereal aisle, we are proud to represent Asian American culture and are thrilled to see our products gaining popularity in national grocery chains. We expect to be in more than 3,000 retail locations by the end of 2023, and we will continue to increase velocity as our brand awareness grows and launch new marketing campaigns.
Breaking into the organic and natural foods space and navigating the distribution process can be overwhelming. But it doesn't have to be. Let us help your brand reach target shoppers with ease and confidence. Learn more here: https://www.kehe.com/suppliers/