Sweet Treats with No Guilt

Consumers are craving a change; to balance eating healthier with the occasional indulgence of candy. * This shift has sparked an interest in ingredients leading more shoppers to read nutritional panels and labels. While nutrition plays a major role in decision making, so does familiarity. Most still find comfort in recognizable brands but with their newfound diets or lifestyle changes, consumers have turned to better-for-you options. The increasing need for better-for-you candy gives retailers a chance to lean into product innovation- putting a fresh twist on traditional treats without sacrificing taste.
Allergen Friendly:
As shoppers become more in tune with their diet, they are also learning about how certain allergens are affecting their health and well being.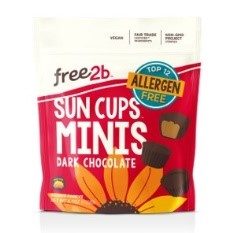 Allergens like dairy, gluten, or even more life-threatening allergens, like peanuts, have shifted the way consumers purchase products. While avoiding an allergen can be life changing, consumers still want to maintain normalcy by enjoying new versions of their favorite candies. Brands like Free2b have leaned into this consumer need and created a chocolate sunflower butter cup that is free from the top 12 allergens.
Alternative Sweeteners/ Kicking Sugar:
Sugar has somewhat become public enemy number one with over 80% of consumers stating that they are now avoiding sweeteners all together to pursue a healthier lifestyle. ** The number one reason consumers are cutting candy is because of sugar which gives brands the chance to use alternative sweeteners instead or reduce the amount completely. Alternative sweeteners are not to be confused with artificial sweeteners, which 70% of consumers believe are bad for your health.**
Between the growing negative perception of artificial sweeteners and the tie to health concerns, consumers are substituting more and more with natural and alternative sweeteners. Confections with stevia, a plant-based zero calorie sweetener, are one of the highest growing alternative sweeteners followed by other natural ingredients like monk fruit, dates, and honey.
Ethical Sourcing:
Looking past what's in the box, consumers are also increasingly drawn to the mission of the product. Brands that have a sustainability or fair-trade initiatives are seeing an 11% growth within confections in the last year. Certifications and labels both grab the consumer's attention and draw them into the story. By understanding the backstory of a brand, consumers feel empowered to be part of the mission by purchasing the product.
Although consumer choices are becoming dependent on special diets, habits, allergens, or even a company's mission; shoppers are often still confused on which product is right for them. Acknowledging consumer fears by providing education, labels, and signage can cut through the clutter and ease some of the pain. Simple solutions like certification shelf tags or educational signage from organizations like the Teal Pumpkin Project can draw in consumers while providing the education they need. Incorporate these ideas into your candy aisle in time for Halloween and see what it can do for you!
*Mintel Chocolate & Non-Chocolate Confectionery Report- US, 2018
**Mintel Sugar and Alternative Sweeteners Report – US, 2018