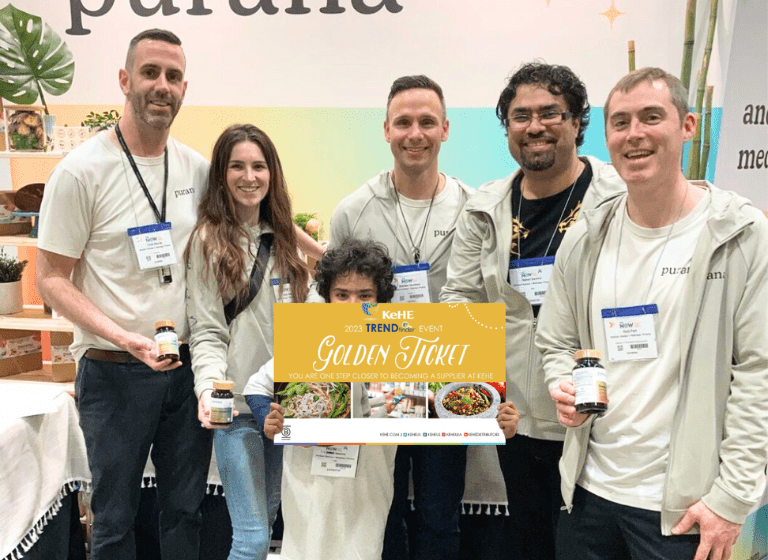 KeHE Announces 16 Winners of Virtual TRENDfinder™ Event
Naperville, IL – July 18, 2023 – KeHE, a leading natural & organic, specialty, and fresh product distributor, is excited to announce the 16 winners of its 2023 TRENDfinder™ event, which took place virtually from May 1st to May 12th.
"Because the food distribution industry is so competitive, newly emerging brands find it difficult to break in," said Rachelle Radcliffe, Senior Director of Supplier Experience at KeHE. "KeHE's TRENDfinder events are a great opportunity for small brands to get their products in front of a large audience to build brand recognition and tap into KeHE's marketplace network."
The event allowed 91 suppliers to hold one-on-one pitch meetings with KeHE's Category Management team. Sixteen of these companies were selected as Golden Ticket Winners and added to KeHE's robust product assortment. Brands were chosen based on their ingredients, innovation, taste, scalability, packaging, purpose, and passion.
The 16 Winners of the "Golden Ticket" Include:
By joining KeHE's product portfolio, the winning brands will gain exposure to over 30,000 retail locations and will support the distributor's retail partners in bringing innovative new products to their customers. KeHE's Category Managers will work closely with the 16 suppliers to provide guidance on market trends, consumer insights, and packaging requirements. The TRENDfinder winners also receive access to supplier promotional programs as further support to succeed in the market.
The next KeHE TRENDfinder event will take place in October 2023. Applications for this event will open in late September. For more information about the event, visit KeHE's website at https://www.kehe.com/events/.
About KeHE
KeHE Distributors, LLC (KeHE) is the largest distributor of natural & organic, specialty, and fresh products to more than 30,000 natural food stores, chain and independent grocery stores, e-commerce retailers, and other specialty products retailers throughout North America. With over 6,800 employee-owners, KeHE, a Certified B Corporation, drives its mission of serving to make lives better, throughout all aspects of its operation. For more about KeHE, visit KeHE.com or check out its social media channels: LinkedIn, Instagram, Facebook, and Twitter.