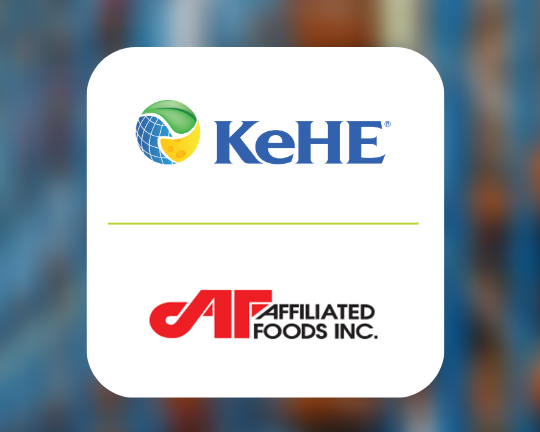 KeHE Announces New Partnership with Affiliated Foods Inc.
Naperville, IL – August 14, 2023 – KeHE Distributors®, a distributor of fresh, natural & organic, and specialty products in North America, announced today that they are the new primary distributor for Affiliated Foods Inc. (AFI). Through this partnership, AFI will have access to KeHE's national distribution network and high-level technology.
AFI is a leading wholesale distribution cooperative in the Southcentral region —specifically Texas, Oklahoma, Kansas, New Mexico, Colorado, Arizona, Nebraska and Arkansas — serving more than 800 renowned grocery stores, convenience stores, and restaurants. To expand its product offerings, AFI will access KeHE's new Dallas distribution center. The Dallas distribution center is equipped with enhanced technology allowing tailored solutions and improved service levels for KeHE partners. The KeHE and AFI partnership will allow AFI to expand its natural & organic, specialty, and fresh offerings in key categories of refrigerated and frozen products.
"Partnering with Affiliated Foods Inc. is an exciting opportunity for KeHE to continue expanding into the Southcentral region of the US," said Marc Rosenthal, Executive Director of Business Development at KeHE. "Our team is thrilled to work with AFI as the primary distributor for their natural, organic, and specialty needs."
AFI will have access to KeHE's curated network of suppliers that specialize in ingredient-based, specialty goods. What's more, AFI will also be able to tap into KeHE's high-touch tools that foster growth and provide invaluable insights.
As one of the largest and most respected distributors focused on natural & organic, specialty, and fresh products, KeHE is dedicated to supporting AFI's goal of elevating its product offerings for its members.
For more information on how KeHE serves retailers throughout the nation, please visit www.kehe.com/retailers.
About KeHE
KeHE Distributors, LLC (KeHE) is the largest distributor of natural & organic, specialty, and fresh products to more than 30,000 natural food stores, chain and independent grocery stores, e-commerce retailers, and other specialty products retailers throughout North America. With over 6,800 employee-owners, KeHE, a Certified B Corporation, drives its mission of serving to make lives better, throughout all aspects of its operation. For more about KeHE, visit KeHE.com or check out its social media channels: LinkedIn, Instagram, Facebook, and Twitter.