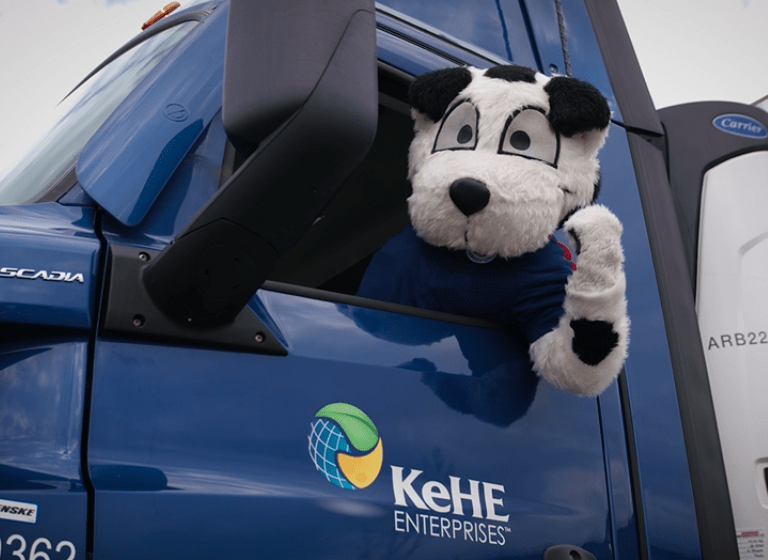 KeHE Distributors® Announces Official Partnership with Chicago Fire FC
Naperville, IL – May 22, 2023 – KeHE Distributors®, a Chicagoland-based distributor of natural & organic, specialty, and fresh products throughout North America, today announced a partnership with the Chicago Fire FC of Major League Soccer (MLS). 
As MLS continues to grow in popularity, KeHE is proud to team up with such a fast-growing franchise as the Chicago Fire to support the shared Chicagoland community as an official partner.
The partnership will feature a Fill the KeHE Truck campaign that will benefit the Chicago Fire Foundation's P.L.A.Y.S. (Participate, Learn, Achieve, Youth Soccer) Program which is committed to supporting underprivileged youth through enhancing the academic performance and development of key social and emotional skills of youth through a sports-based curriculum. The campaign kicks off at the Chicago Fire home match on Saturday, May 20 and will ask fans to donate $25 for each youth soccer ball given to the P.L.A.Y.S. participants. The goal is to reach 500 soccer balls with a supporting sponsor matching the first 250 balls donated. Fans who donate will receive a 10% discount on Chicago Fire merchandise. Donations can be made at http://fillthetruck.givesmart.com/.
As part of the partnership, Sparky, the Chicago Fire mascot, will visit KeHE's nearby Romeoville distribution center for an Employee Appreciation Event on Thursday, May 25 where Sparky will meet with KeHE employees and tour the facility.
"As a Chicago-based company of great people who work hard every day to help feed communities across the U.S., we are thrilled to be an official partner of Chicago Fire FC," said Deb Conklin, President & CEO at KeHE. "We appreciate and share the Chicago Fire's commitment to serving and investing in Chicago's youth and the under-resourced. I speak for all KeHE's Chicagoland-based employees when I say we look forward to being a bigger part of the mission, energy, and passion that is the Chicago Fire community. Go Fire!"
"We are excited to welcome KeHE to the Chicago Fire FC family," said Chicago Fire FC President of Business Operations, Dave Baldwin. "KeHE's commitment to serving communities and investing in our youth, aligns with our mission as an organization. We look forward to a successful partnership with KeHE as we work together to strengthen our community."
To learn more about KeHE's commitment to serving and feeding America, visit www.kehe.com/about.
About KeHE
KeHE Distributors, LLC (KeHE) is the largest distributor of natural & organic, specialty, and fresh products to more than 30,000 natural food stores, chain and independent grocery stores, e-commerce retailers, and other specialty products retailers throughout North America. With over 6,800 employee-owners, KeHE, a Certified B Corporation, drives its mission of serving to make lives better, throughout all aspects of its operation. For more about KeHE, visit KeHE.com or check out our social media channels: LinkedIn, Instagram, Facebook and Twitter.
About Chicago Fire FC
The Chicago Fire Football Club was founded in 1997 on the 126th anniversary of the Great Chicago Fire. The Fire have won six major domestic championship titles, including the 1998 MLS Cup, the 1998, 2000, 2003 and 2006 Lamar Hunt U.S. Open Cups, as well as the 2003 MLS Supporters' Shield. The Club's charitable arm, the Chicago Fire Foundation, was recognized as ESPN's 2019 Sports Humanitarian Team of the Year. The Fire plays their home matches at historic Soldier Field. For more information, visit chicagofirefc.com.