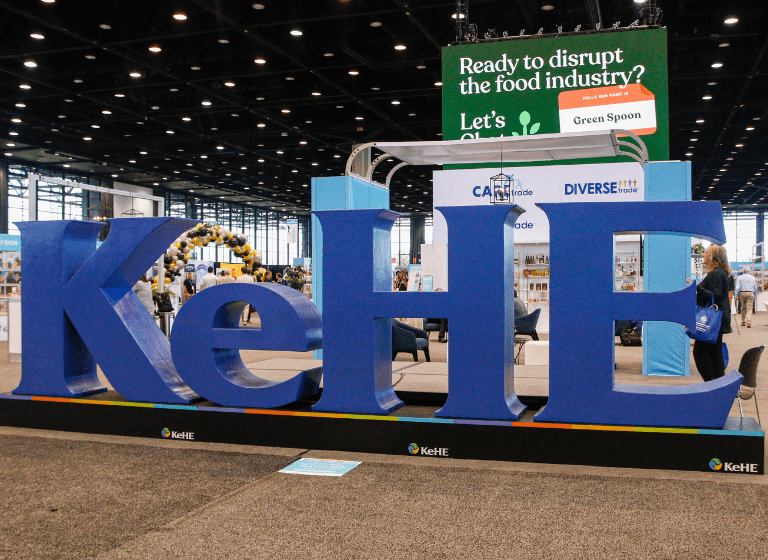 KeHE Distributors® Showcases Emerging Trends and Products Exclusively to Its Partners at Holiday Show
Naperville, IL – July 12, 2023 – KeHE Distributors, one of the largest natural & organic, specialty, and fresh products distributors in North America, hosted its 2023 KeHE Holiday Show in Chicago. The event brought together the industry's most sought-after products, cutting-edge brands, and top retailers to tap into the latest trends and stock their shelves before the start of the holiday buying season. 
KeHE's highly anticipated Holiday Show featured nearly 300 new brands, 800 exhibitors, and 900 retail buyers, with thousands of industry leaders in attendance. All those who attended the record-breaking show had the chance to buy and sell new products and discover innovation from exhibiting booths, along with exploring specialized areas like the International Pavilion where brands based out of 14 different countries showcased their products. This event was newly added to the Holiday Show to expand the variety of products that participants could sample firsthand.
The 2023 KeHE Holiday Show also celebrated the company's On Trend® winners, who were selected out of a pool of 45 finalists for innovation, purpose, ingredients, and scalability. The 16 winners include:
Deb Conklin, President and CEO of KeHE, made her State of the Industry address, touching on her first three months as president and highlighting what to expect from KeHE going forward. The company plans to invest in innovative new resources and products, specifically fresh products such as cheese, that differentiate and customize KeHE's service to better suit the needs of its customers. This means tailoring solutions to fit each customer, rather than providing a one-size-fits-all service. Conklin's "Food. Forward" Strategy will allow KeHE to be a partner for success up and down the supply chain.
"We are so impressed with the unique, high-quality brands that attended our Holiday Show," said Conklin. "This event is a great opportunity to put passionate, emerging brands in front of retailers searching for exceptional products to sell to their consumers for the holidays. It is also tremendously rewarding to celebrate KeHE's 70th anniversary with the partners and retailers who have made our achievements possible."
Additionally, the KeHE Cares® Foundation assembled 1,000 care packs during the Holiday Show to be hand delivered to military service personnel. Show attendees were also given the option to donate to one of three beneficiaries: Operation Deployed, Texas Airguard Maximum Effort (TAME), and BraveHearts Therapeutic. In addition to the care packs, KeHE Cares donated over 46,000 pounds of food to the Greater Chicago Food Depository.
KeHE looks forward to the Summer Show in February 2024 in Salt Lake City. To learn more about KeHE's national trade shows, visit kehe.com/events.
About KeHE
KeHE Distributors, LLC (KeHE) is the largest distributor of natural & organic, specialty, and fresh products to more than 30,000 natural food stores, chain and independent grocery stores, e-commerce retailers, and other specialty products retailers throughout North America. With over 6,800 employee-owners, KeHE, a Certified B Corporation, drives its mission of serving to make lives better, throughout all aspects of its operation. For more about KeHE, visit KeHE.com or check out our social media channels: LinkedIn, Instagram, Facebook, and Twitter.