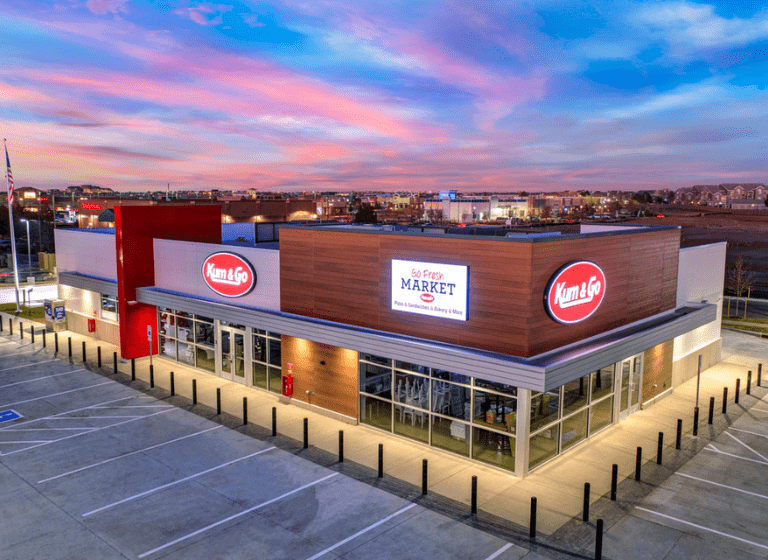 KeHE Expands Service to Convenience Stores with Kum & Go Partnership
Naperville, IL – November 1, 2022 – KeHE Distributors today announced it has entered into a distribution partnership with Kum & Go, L.C., a family-owned convenience retail chain primarily located in the Midwestern United States. This partnership aligns with KeHE's goals of expanding access to better-for-you products through supply chain support to convenience retailers.
"We are thrilled to be selected by Kum & Go as their primary distributor for specialty, natural, and organic products," said Marc Rosenthal, Executive Director of Business Development. "Kum & Go is an amazing company that has been serving the Midwest well and we are proud to partner with them to broaden their product assortment and help them continue to challenge the perceived "norm" of convenience store food."
Kum & Go, headquartered in Des Moines, Iowa, is Midwest-based with over 400 convenience stores in states including Iowa, Nebraska, Arkansas, Colorado, Minnesota, Missouri, Montana, North Dakota, Oklahoma, South Dakota, and Wyoming. The company is adding KeHE as a primary partner for 80 Kum & Go locations, with plans to expand to more locations, to improve distribution, increase product assortment, and facilitate further growth in the Midwest market.
"We are excited to be partnering with KeHE Distributors to bring new and better-for-you products to our customers," said Kristin Jarabek, Vice President of Category Management at Kum & Go. "We're proud to provide our customers options they wouldn't expect to find in a convenience store without sacrificing the "convenience factor". This supports our initiative to "democratize healthy" within the convenience space."
The new partnership with Kum & Go expands KeHE's business in the convenience store channel. Focused on natural & organic, specialty, and fresh products, KeHE currently serves over 30,000 retail locations through its network of over 16 distribution centers across North America. The distributor aims to continue its drive to provide more consumers with access to quality and better-for-you products.
To learn more about the services KeHE offers for retail partners, visit https://www.kehe.com/retailers/
About Kum & Go
Established in Hampton, Iowa in 1959, Kum & Go is a fourth-generation, family-owned convenience store chain providing a fresh perspective by meeting customers where they are and offering them the choices they deserve. For over 60 years, the company has been dedicated to sharing 10% of all profits back to the communities it serves. Kum & Go is hiring over 5,000 associates across all locations this year, adding 176 food positions as they expand their brand and food program in the Des Moines, IA market. Full-time positions offer benefits and set schedules with consistent hours. For more information and to join the team, visit careers.kumandgo.com.
About KeHE
KeHE Distributors, LLC (KeHE) is the largest, pure-play distributor of natural & organic, specialty, and fresh products to more than 30,000 natural food stores, chain and independent grocery stores, e-commerce retailers, and other specialty products retailers throughout North America. With over 6,800 employee-owners, KeHE, a Certified B Corporation, drives its mission of serving to make lives better and bringing the next level of goodness, crazy GOOD™, throughout all aspects of its operation. For more about KeHE, visit KeHE.com or check out our social media channels: LinkedIn, Instagram, Facebook,& Twitter.