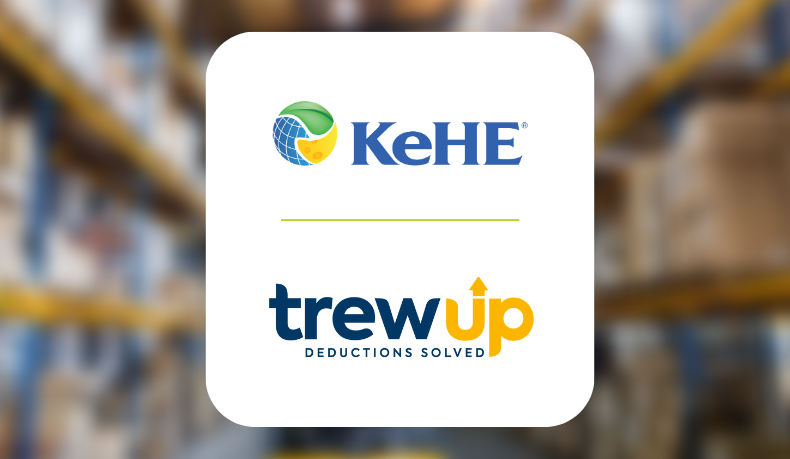 KeHE Partners with TrewUp to Revolutionize Deductions Management for CPG Brands
Naperville, IL – September 7, 2023 – KeHE is committed to the success of its supplier community by finding and implementing groundbreaking technology to support success. As such, a transformative partnership is now underway between KeHE and TrewUp. KeHE, the largest distributor of natural & organic, specialty and fresh products, is excited to announce its partnership with TrewUp, a trailblazing deductions management platform. The strategic alliance will provide supplier partners with an automated solution for managing, analyzing, and categorizing trade spend deductions.
TrewUp's cloud-based platform is revolutionizing the way CPG brands manage and interpret their deductions. By automating the process of retrieving, digitizing, and categorizing thousands of pages of deduction invoices, TrewUp saves brands significant time and resources, eliminating the need for manual analysis.
"Part of KeHE's new strategic plan is to focus on partner success. This partnership with TrewUp further reinforces its commitment to the success of new and emerging brands. It's a synergistic partnership that will equip brands with deeper insights into their deductions, allowing them to spot trends, and empowering them to carve a successful trajectory in the market," stated Katie Paul, SVP, Merchandising at KeHE.
TrewUp's mission to simplify the deductions management process aligns with KeHE's vision of supporting brands in the natural & organic, specialty, and fresh channels, allowing brands to focus on strategic initiatives rather than tedious administrative tasks.
Kyle Barnholt, Co-Founder & CEO at TrewUp expressed, "We are thrilled to partner with KeHE, the leading distributor in the natural products industry. This collaboration allows us to further expand our reach and provide a comprehensive solution for managing trade spend effectively. With KeHE's expertise and TrewUp's innovative platform, brands can optimize deductions management, control costs, and grow sales."
The partnership between KeHE and TrewUp marks a significant evolution in deductions management for CPG brands. By leveraging TrewUp's cutting-edge technology and KeHE's industry leadership, this collaboration is set to drive efficiency, accuracy, and profitability for brands in the Natural and Specialty channels.
About KeHE
KeHE Distributors, LLC (KeHE) is the largest distributor of natural & organic, specialty, and fresh products to more than 30,000 natural food stores, chain and independent grocery stores, e-commerce retailers, and other specialty products retailers throughout North America. With over 6,800 employee-owners, KeHE, a Certified B Corporation, drives its mission of serving to make lives better, throughout all aspects of its operation. For more about KeHE, visit KeHE.com or check out its social media channels: LinkedIn, Instagram, Facebook, and Twitter.
KeHE Press Contact: ari Goldsmith | Ari.Goldsmith@KeHE.com
About TrewUp
TrewUp is a cloud-based deductions management platform revolutionizing the way Consumer Packaged Goods (CPG) brands manage and analyze their trade spend. TrewUp's intuitive interface and automation technology allow brands to optimize their deductions management, improve control over costs, and increase profitability.
Press Contact: Eric Solat | Sales@TrewUp.com