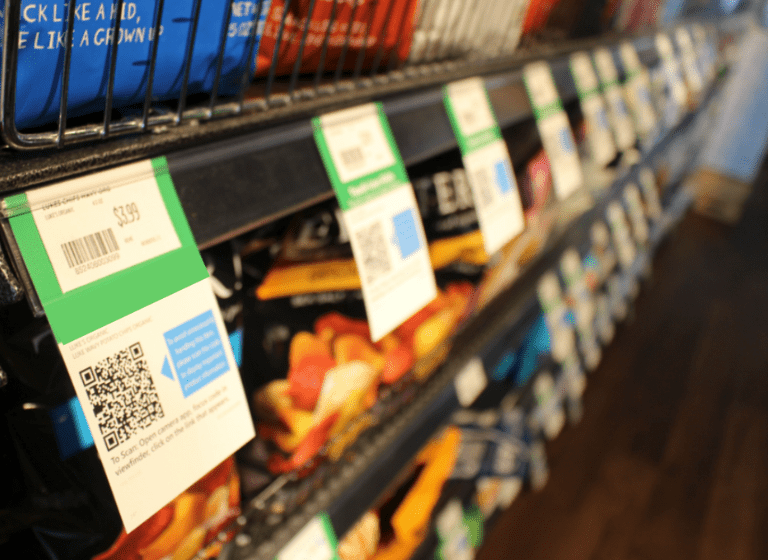 KeHE Reimagines the In-Store Shopping Experience with Smart Shelf Tags
Naperville, IL – May 18, 2023 – KeHE, one of the largest distributors of natural and organic, specialty, and fresh products, has partnered with Cornerstone Consulting and its brand Cornerstone for Natural™ to enable a tech-forward experience for suppliers, retailers, and consumers with Smart Shelf Tags. Consumers want more information on the products and brands they use and consume daily, and Smart Shelf Tags offer instant digital content on in-store products via hyperdynamic QR codes.
"We're in a new era of consumer access, and we want to empower our suppliers and retailers to deliver what customers want – instant information about an item on the shelf," said Katie Paul, Senior Vice President, Merchandising. "We're thrilled to offer this technology to our partners as we work together to innovate the in-store experience."
Smart Shelf Tags provide enhanced capabilities and security above and beyond typical QR codes. Suppliers provide information for Smart Shelf Tags that automatically populate for each Universal Product Code, which could include promotional offers, nutrition and allergen information, testimonials, traceability information, brand stories, and videos and images. Retailers never have to source, manage, or update content, and the tags include automatically printed codes.
"The best way to immediately reach a consumer is offering them the information they need the moment they see your product," said Dave Boos, President of Cornerstone Consulting. "No other technology allows companies to instantly connect with the consumer while they are in the shopping aisle."
Customers often spend more time researching categories like vitamins and supplements, natural and organic products, functional foods, local items and new brands. With immediate, in-store access to robust product details, consumers can quickly and easily find the information they need to make an informed purchasing decision.
Adding Smart Shelf Tags to KeHE's value-added sales and marketing services complements the company's portfolio of optimal distribution solutions for retail partners and suppliers. To learn more about KeHE, visit www.kehe.com. For more information about Cornerstone or the ELi QR Codes, visit https://smartshelftags.us/.
About KeHE
KeHE Distributors, LLC (KeHE) is the largest distributor of natural & organic, specialty, and fresh products to more than 30,000 natural food stores, chain and independent grocery stores, e-commerce retailers, and other specialty products retailers throughout North America. With over 6,800 employee-owners, KeHE, a Certified B Corporation, drives its mission of serving to make lives better, throughout all aspects of its operation. For more about KeHE, visit KeHE.com or check out its social media channels: LinkedIn, Instagram, Facebook and Twitter.
About Cornerstone for Natural
Cornerstone for Natural (www.CornerstoneForNatural.com), a division of Cornerstone Consulting, Inc., is based in Tampa Florida and is one of the industry's leading enterprise resource management (ERP) software providers. These systems help their clients be more efficient, productive, and profitable by connecting, integrating, tracking, and reporting on all aspects of their business operations. Because of it's interest in the Natural Products space Cornerstone developed a HyperDynamic QR Code technology called "ELi" which is the basis for the Smart Shelf Tags that help its clients communicate rich product content easily and accurately.