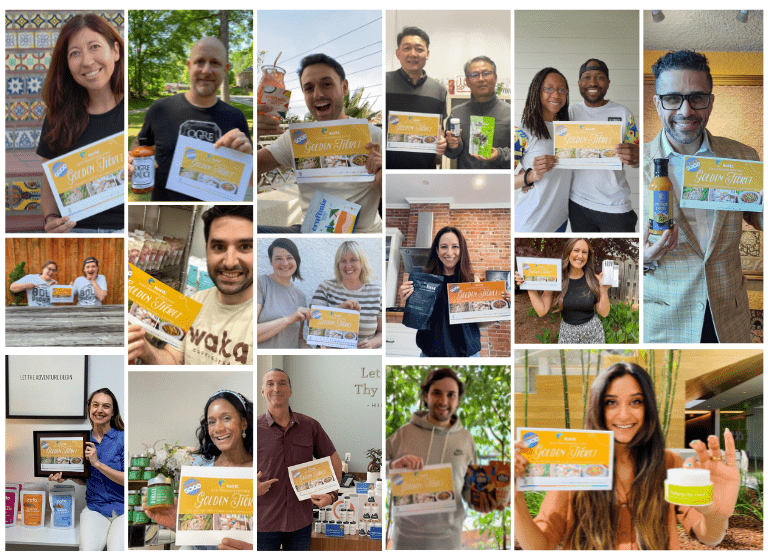 And the Winners Are: KeHE Distributors Announces New "Golden Ticket" Recipients Featuring 21 Brilliant and Unique Brands
Naperville, IL– May 26, 2022– KeHE Distributors (KeHE), one of the largest natural & organic, specialty, and fresh distributors in North America, has announced its list of 21 "Golden Ticket" winners during their most recent TrendFinder event.
Out of 504 applicants, 120 food suppliers were given the chance to virtually pitch their products one-on-one to KeHE's Category Management team for a chance to have their brand join KeHE's portfolio, receive significant promotional support, and gain exposure to over 30,000 retail locations throughout the country. Winners of the competition were selected based on ingredients, innovation, taste, scalability, packaging, purpose, and passion.
"With such a large number of impressive applicants and presentations, it was not an easy task to narrow down the finalists," said Rachelle Radcliffe, Director of Brand Development at KeHE. "That being said, we are absolutely delighted with our winners, and we are beyond eager to see these brands thrive. We are confident these winners will truly excite consumers as much as they excited us, if not more."
Below are a few trendsetting Golden Ticket winners to watch:
Additional winners included Granolust Granola; KANEYAMA East Asian foods; Waka Coffee and Tea; Ogre Sauce BBQ Sauce; In the Kitchen with Alexandra Pikliz; KOOPE Skincare; Balkan Bites; TUYYO Foods; Bold Pickins LLC Pickles; Growee Foods; Taking Stock Foods Bone Broth; Nutritional Roots; Cofo Provisions; FigBrew; Vitamin 1, LLC Sports Drink; and East India Company
The next TrendFinder event will be held virtually in October. For brands that wish to apply to pitch their products, click the application link here. To see a full list of previous TrendFinder winners and more information, visit KeHE TrendFinder.
About KeHE
KeHE Distributors, LLC (KeHE) is the largest, pure-play distributor of natural & organic, specialty, and fresh products to more than 30,000 natural food stores, chain and independent grocery stores, e-commerce retailers, and other specialty products retailers throughout North America. With over 6,800 employee-owners, KeHE, a Certified B Corporation, drives its mission of serving to make lives better and bringing the next level of goodness, crazy GOOD™, throughout all aspects of its operation. For more about KeHE, visit KeHE.com or check out our social media channels: LinkedIn, Instagram, Facebook,& Twitter.