Pumpkin. Pecan. Sweet potato. Apple.
Pies are practically the love language of the holiday season – and consumers agree.
Mintel reports total retail sales of prepared cakes and pies reached an estimated $11.6 billion in 2015.
According to data from research firm IRI, sales for the pie and cake categories in 2016 saw 15.5 percent growth compared to 2015.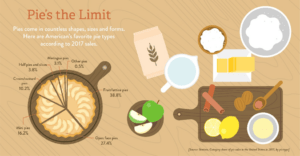 While sales are traditionally steady year-round with a sudden peak toward the end of the year, bakers are taking note of the way consumers love to share pies at events and are seeking ways to pique interest throughout the calendar year.
The result has been a shift in variety. Looking to bring your favorite flavored pie to a family reunion? There's now a 12-inch pie for that (compared to the traditional 8-inch pies of the past).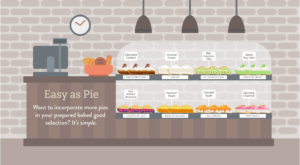 Or perhaps you're hoping to appease the conflicting tastes of picky coworkers at your annual potluck. Grab a "four seasons"- style pie – a grab-and-go option in which each quarter of the pie is a different flavor.
The variety is providing new and interesting ways retailers can promote prepared pies no matter what's on the calendar.