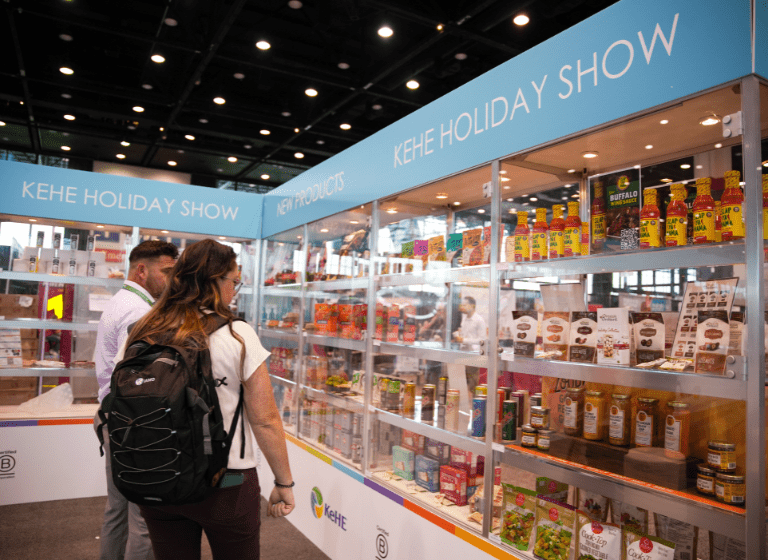 KeHE Brings Award-Winning Selling Show Back to Chicago June 14 -15
Naperville, IL – May 10, 2023 – KeHE Distributors, one of the largest natural & organic, specialty, and fresh products distributors in North America, is bringing the industry's most sought-after products, cutting-edge brands, and top retailers back to Chicago on June 14 and 15 for the 2023 KeHE Holiday Show.
The highly anticipated show features more than 800 exhibitors, 900 retail buyers, and thousands of industry leaders in attendance. The event offers a unique opportunity for attendees to learn about and have sensorial experiences with the latest innovative natural & organic, specialty, and fresh products coming to market today.
The show is widely considered a must-attend event for grocery retailers looking to stock their shelves with new, exciting products for the holidays and established brands seeking to accelerate growth. What's more, the show floor provides attendees with an immersive experience to sample brands and buy products.
"After a historic return-to-show in 2022, we are beyond excited for this year's Holiday Show," said Ari Goldsmith, Vice President of Marketing & Digital Media of KeHE. "Not only are the show exhibitors and participants better than ever, but KeHE is also celebrating its 70th anniversary. We are looking forward to sharing our appreciation for achieving this milestone anniversary with our partners and retailers who have made the last 70 years possible. Looking towards the future and growth, we are pleased to welcome KeHE's new CEO & President, Deb Conklin."
The 2023 KeHE Holiday Show will feature a State of the Industry: President's Address from Deb Conklin, the KeHE On Trend® Awards, New Product Showcase, the deepest deals for the holiday-buying season, and a KeHE Serving Goodness Event powered by Hanson Faso. The in-person show will close out with KeHE's Party with a Purpose, an after-show celebration event at the Museum of Science & Industry that will continue to share in KeHE's value structure of Serving to Make Lives Better™.
In addition to the in-person event, KeHE will also host a virtual holiday show that will showcase more than 850 exhibitors from June 7-21 on the KeHE CONNECT® Platform.
For more information about the 2023 KeHE Holiday Show, please visit: https://www.kehe.com/news-blog/events/2023-kehe-holiday-show/
About KeHE
KeHE Distributors, LLC (KeHE) is the largest distributor of natural & organic, specialty, and fresh products to more than 30,000 natural food stores, chain and independent grocery stores, e-commerce retailers, and other specialty products retailers throughout North America. With over 6,800 employee-owners, KeHE, a Certified B Corporation, drives its mission of serving to make lives better, throughout all aspects of its operation. For more about KeHE, visit KeHE.com or check out our social media channels: LinkedIn, Instagram, Facebook and Twitter.