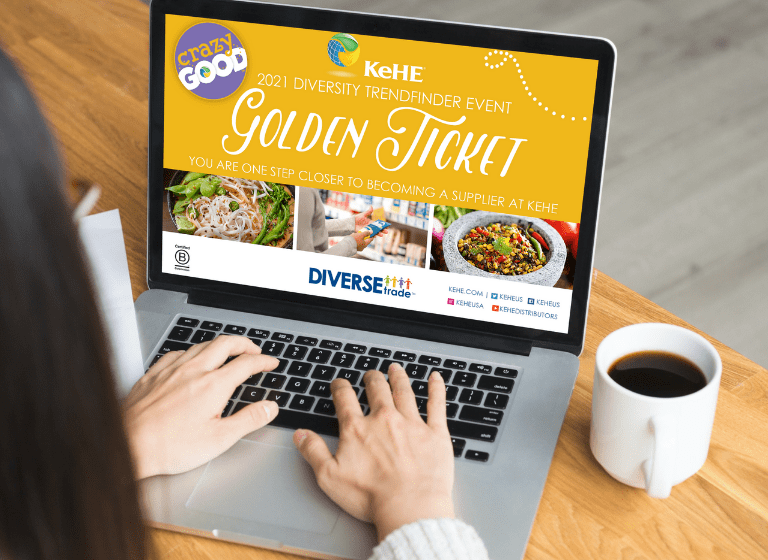 KeHE Drives Diversity Through the Distributor's TrendFinder™ Event

Naperville, IL – November 3, 2021 – KeHE Distributors® announced today the "Golden Ticket" winners of its recent Diversity TrendFinder™ event, fast tracking them into their DIVERSEtrade™ program. Nearly 200 suppliers were each given 20 minutes to pitch their brand one-on-one to KeHE's Category Management team who chose 20 of them to be added to the distributor's robust assortment.
"Diversity, equality, and inclusion is not only a top priority for us at KeHE, but we also want to make an impact in the natural food industry, which is why our latest TrendFinder™ event was dedicated to sourcing brands that are minority lead," said Rachelle Radcliffe, Director of Brand Development at KeHE. "We believe that women, BIPOC, LGBTQIA+, veterans, and people with disabilities deserve the opportunity to get access to KeHE's expertise and we can't wait to help them grow their brand in the marketplace."
Looking to bring innovation and new products to its retail partners, KeHE has selected its TrendFinder™ "Golden Ticket" recipients based on diversity, equity, and inclusion, as well as on the ingredients they use, how they taste, their eye-catching packaging, and their company purpose. The following chosen "Golden Ticket" brands will be onboarded at KeHE:
By joining KeHE's product portfolio, these brands will gain exposure to over 30,000 retail locations and support the distributor's retail partners in bringing innovation and new products to their customers. Along with breaking down barriers to entry and assisting the "Golden Ticket" winners in navigating distribution, KeHE is offering each brand promotional programs free of charge.
To learn more about how KeHE is supporting the supplier community, click here.
About KeHE
KeHE Distributors®, LLC (KeHE) is the largest, pure-play distributor of natural & organic, specialty, and fresh products to more than 30,000 natural food stores, chain and independent grocery stores, e-commerce retailers, and other specialty products retailers throughout North America. With over 5,500 employee-owners, KeHE, a Certified B Corporation, drives its mission of serving to make lives better and bringing the next level of goodness, crazy GOOD™, throughout all aspects of its operation. For more about KeHE, visit KeHE.com or check out our social media channels: LinkedIn, Instagram, Facebook,& Twitter.