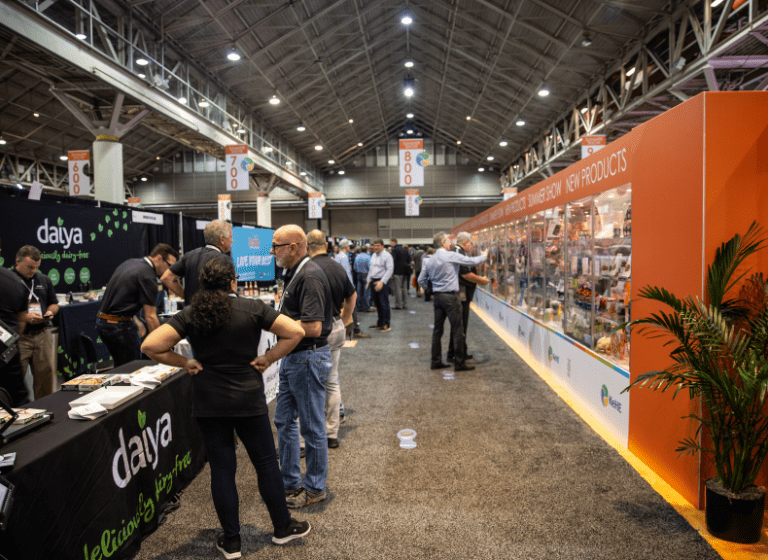 KeHE's Upcoming Summer Show Offers First Look at New Products and Trends
NAPERVILLE, IL –  February 1, 2023  –  KeHE Distributors®, one of the largest natural & organic, specialty, and fresh distributors in North America, will feature top trends, best-in-class merchandising ideas, and expert industry insights throughout the more than 260,000 square feet of its upcoming 2023 KeHE Summer Show. The event will be held in Nashville, Tennessee, from February 7–8, 2023 and exclusively in KeHE CONNECT® from February 1 – 15, 2023.
KeHE's Summer Show is the leading industry event for its suppliers and retailers to see the latest trends and get exclusive access to buy and sample the up-and-coming products of the summer. The award-winning KeHE Summer Show connects brands with key buyers from independent and chain retail stores, cultivating connections that help brands not only break into the marketplace but also expand distribution.
"Summer is just around the corner, so now is the time for retailers to curate their summer product portfolios and source leading-edge innovation to support industry trends. We are grateful for our network of supplier partners that enable the largest manifestation of the KeHE brand," said Ari Goldsmith, Vice President of Marketing and Digital Media. "We're thrilled to host our annual event in Nashville and experience a city that shares our industry's passion for incredible and local food."
KeHE will host a session, KeHE – Evolution in Leadership, with Brandon Barnholt and Deb Conklin, current and future President & CEO of KeHE, to discuss KeHE's future from a leadership perspective and projections about the industry's trajectory.
The 2023 KeHE Summer Show also includes:
A Next Generation Innovation Showcase to allow attendees to explore emerging brands before they hit the marketplace
A fresh marketplace to sample the latest in fresh products and experience renewed fresh capabilities at KeHE
The On Trend® Awards where KeHE will recognize 17 brands as best-in-show for innovation, purpose, taste, promotions, packaging, and people
Immersive activations and can't-miss deals at crazy GOOD™ Deal Hubs on the show floor
The 2023 KeHE Summer Show is the preeminent opportunity to explore emerging brands and new products hitting the marketplace while sourcing the deepest deals available. KeHE is also offering an exclusive Summer Show digital event in KeHE CONNECT® from February 1–15, 2023. The KeHE event is invite-only and exclusive to KeHE retailer and supplier partners.
Learn more about KeHE's Summer Show here.
About KeHE
KeHE Distributors, LLC (KeHE) is the largest, pure-play distributor of natural & organic, specialty, and fresh products to more than 30,000 natural food stores, chain and independent grocery stores, e-commerce retailers, and other specialty products retailers throughout North America. With over 6,800 employees, KeHE, a Certified B Corporation and employee-owned company, drives its mission of serving to make lives better, throughout all aspects of its operations.
For more about KeHE, visit KeHE.com or check out its social media channels: LinkedIn, Instagram, Facebook, & Twitter.