Vote for a Force for Good
The B Corp Community Comes Together to Make Every Day an Election Day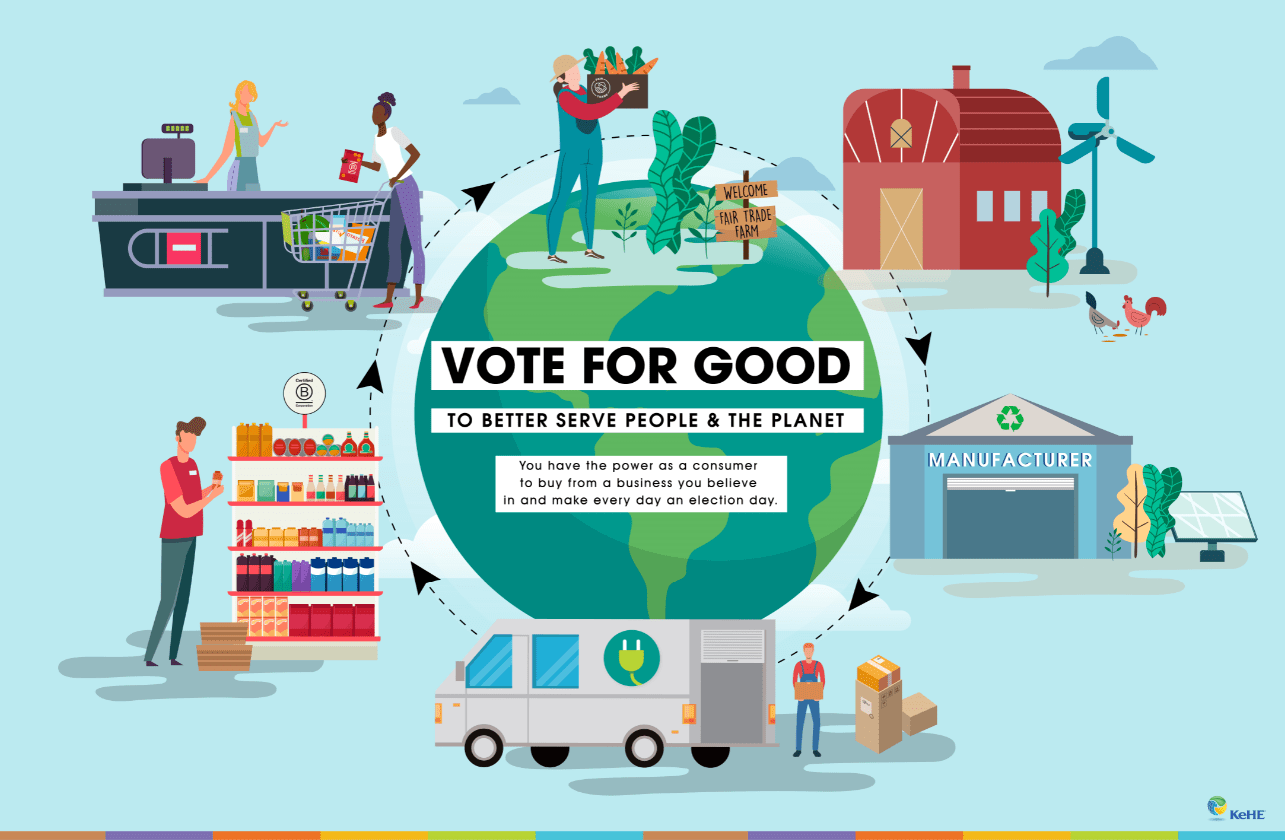 Everyone has the power to make a change. Voting is one of the many ways a community can come together to be heard. Throughout the food and beverage supply chain, distributors, suppliers, retailers, and consumers all have the power to shift the industry to better serve people and the planet. How is that? Through the B Corp™ community (made up of over 3,200 businesses around the world), each step of the supply chain can use their daily decisions to vote for change and make every day an election day.
What Is B Corp™?
Certified B Corporation® is a badge of honor given to businesses that are leading a global movement working to redefine success in business. B Corps™ are required to meet the highest standards of social and environmental performance, transparency and legal accountability.
B Corp™ at KeHE
At KeHE, we have accepted the challenge to be evaluated through B Lab's third-party assessment measuring the overall impact of a company every three years. That's been happening since our induction in 2015. The rigorous assessment examines our impact on our employee's customers, community, and environment, as well as public transparency, and legal accountability. This ultimately builds credibility, trust, and value. With this prestigious certification comes a community of like-minded businesses.
The B Corp Community
We are proud to be a part of the large B Corp community, specifically, with our friends in the food and beverage industry supply chain. We're aligned with organizations that meet the same standards and we're proud to work with over 100 certified B Corps.
Suppliers & Manufacturers
For example, KeHE works with suppliers like Danone North America, the largest B Corp™ in the world, and its affiliate, Danone Waters of America (distributor of evian®). These companies have demonstrated their long-lasting commitment to economic success and social progress through their B Corps™ certification. Striving to also show support for the B Corp™ movement, Danone North America sources from fellow B Corps™ like Tribe 9.
Danone North America's support and efforts are one of many driving changes within the industry. For instance, the company works in partnership with the Bonneville Environmental Foundation to balance the water used in Danone's own production plants, restoring it back to nature. Likewise, it ensures the electricity used in its plants comes from renewable sources. Both Danone North America and Danone Waters of America give back to the community and have committed to 100% reusable, recyclable, and compostable packaging by 2025.
In addition to their corporate impact, many of the well-known brands in the Danone portfolio are also moving the needle. Did you know that Silk, So Delicious, Vega, Horizon, Wallaby, Two Good, Happy Family, and evian continue to integrate the mission and values of what it means to be a B Corp™ into their day-to-day decisions? As an example, Horizon recently announced its commitment to being carbon positive across its full supply chain by 2025. As the largest USDA certified organic dairy brand, Horizon's commitment includes a full scope effort, with initiatives like reducing their emissions through soil health practices, boosting farmers' energy efficiency, powering facilities through wind energy, and using recyclable packaging with easy How2Recycle® instructions.
Retailers
While the supplier and distributor portion of the supply chain makes a large impact, the chain would be incomplete without the final stop at our retailer partners. New Seasons Market is one of our many retail partners and is also a fellow B Corps™. The Pacific Northwest neighborhood grocery chain became the first grocery store on the planet to become a Certified B Corporation® in 2013. Since then, they have kept their promise to put just as many emphases on people and planet as they do profit.
Consumers
To make a great impact on people and the planet: suppliers, retailers, and distributors aren't the only players. Consumers play a crucial part in the chain by casting their votes for change every day. Just by making the simple choice of supporting a brand that has a Certified B Corporation® label puts your dollars towards change. You have the power as a consumer to buy from a business you believe in and make every day an election day.