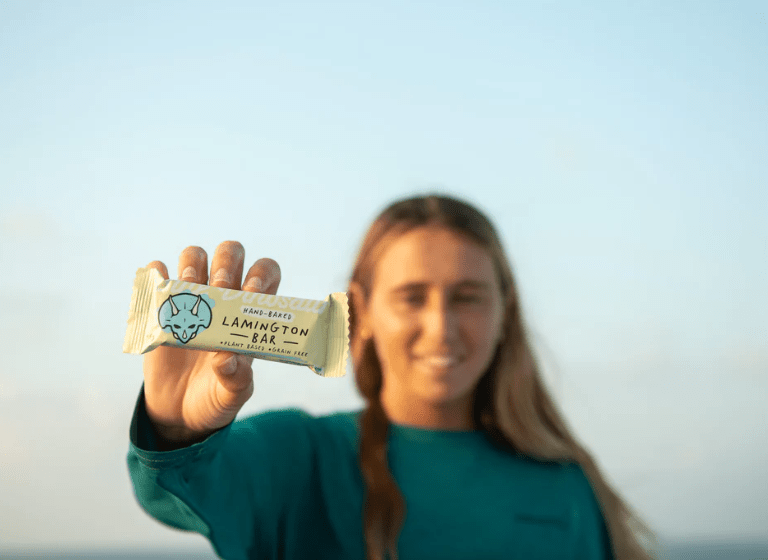 KeHE's Partnership with Forbidden Foods Marks a Successful Launch for Blue Dinosaur
KeHE has a long history of working with small emerging brands, helping them to reach new shelves and gain brand recognition. Recently, KeHE worked with Forbidden Foods, an Australian based food company that specializes in sourcing and developing healthy and innovative food products. With a clear vision, inventive products, and the mentorship of an experienced distributor, business owners can see their products thrive and reach new consumers. Collaborating with KeHE has given Forbidden Foods the resources to strengthen brand recognition and establish a customer base in the highly competitive health and wellness market.
KeHE has been working with Forbidden Foods to help launch their core brand Blue Dinosaur. Blue Dinosaur produces vegan, gluten-free, and dairy-free nutrition bars that are made with clean and healthy ingredients, providing a great taste experience for consumers. Forbidden Foods is aiming for Blue Dinosaur to become an established nutrition bar alternative in both the US and Australia and the KeHE team has been proud to help bring this goal to life.
"KeHE is a fantastic partner to help grow your business and build a strong foundation for large-scale distribution," says Marcus Brown, Chief Executive Officer at Forbidden Foods. "We found that to optimize our relationship with distributors such as KeHE, it was vital that we communicate with our account and category managers and listen to their feedback about regions, customers, and trends. They have a greater understanding of food categories than most people in the industry and are such a great resource."
KeHE's distribution reach and retailer partnerships have helped Forbidden Foods continue to grow into new markets. These resources have allowed Forbidden Foods to prioritize marketing initiatives, which in turn has given them the guidance to make invaluable strategic decisions for Blue Dinosaur.
KeHE's Category Managers Are Here to Help
Healthy, alternative nutrition bars are a highly competitive market to break into. Engaging in a partnership with an experienced distributor like KeHE allows businesses to streamline the development of an impactful marketing strategy to reach new customers. KeHE has also helped Forbidden Foods connect with key retailers, which has allowed Blue Dinosaur to create a lasting impression on consumers in newly established markets.
As the KeHE's category manager that works specifically with Forbidden Foods, Gad Perdomo says, "New suppliers need to have an understanding of their financial situation before going to market, and they should also be prepared for potential launching fees and costs. Reach out for advice and mentorship and ask lots of questions in order to fully take advantage of the retailer and distributor processes, costs, and challenges."
At KeHE, we are committed to supporting emerging brands like Forbidden Foods as they navigate highly competitive markets to reach new shelves and strengthen brand recognition among new consumers. Working with an experienced distributor like KeHE gives business owners the opportunity to gain critical industry knowledge that allows them to achieve their goals and make informed decisions. KeHE offers a variety of exclusive supplier programs such as KeHE elevate™, KeHE ECOtrade™, KeHE CAREtrade® and KeHE DIVERSEtrade®. With 70 years of industry insight, KeHE is looking forward to providing new products that are both health conscious and delicious to their customers. To learn more about how KeHE can help you grow your business, get in touch here.